Have you ever wanted to own a transformation-themed product designed by TF fans for your room, or even TRANSFORM YOU INTO AN ANIMAL?! * 
* Unfortunately at this time, these products do not contain any transformative properties.
We here at Busy Beaver Designs are
very
happy to finally offer custom Furry and Transformation-themed bottles and glasses! From our classic Rudder Rum, to our newer Poke'Cola offerings: we have something for all kinds of folks! If you're looking for a fun prop to have around, a glass to use for beverages, a place to store your TF-infused potions, or a gift for a friend or partner — we hope you enjoy these designs!
Below you'll find our current catalog of glasses and bottles we have designed! Some designs are available to purchase or acquire via trade, while other designs may be one-of-a-kind for a commissioner. If you're interested in your own design, feel free to use the form at the bottom of the page, or reach out via Twitter, Fur Affinity, or elsewhere!

The first in our line of our custom label designs! Poke'Cola has gone through a variety of design changes since the original idea back in 2015. After gaining experience through other projects and a brand new redesign, Poke'Cola and these other label designs are ready for the public! Each one of the glasses is laser printed on waterproof vinyl, then spray-coated with acrylic sealer after adhesion to ensure the label will hold up to some use! In the future these designs will be available as "shelf-ready" bottle version if you're more of a fan of that style!
These designs are not the last by any means as well! Poke'Cola Dark is right around the corner, along with our V-Series designs, and much more! Feel free to follow us over on Twitter for the most up-to-date design news, and feel free to reach out if you have any questions or concerns!
More information and images are available on the glass' pages, available via clicking the image! (Beverages not included.)
Copyright and rights to Pokemon and related images belong to Game Freak & Nintendo. Additionally, Coke and related images are copyright Coca-Cola. These are unofficial, parody, fan-made creations.
Additional Bottle / Label Designs
"Eau de Poodle, the flagship scent of the Royalty Collection, blends the essence of lavender, hints of rose, and notes of Indian jasmine for a truly transformative fragrance. Dignify the exquisite taste of your inner pampered poodle with the finest of pawcrafted aromas. You deserve a Royal treatment."
Eau de Poodle is based off an idea by none other than the TF poodle himself, Royal! — and features a custom design on front and back! The bottle featured here is filled with pink water and sealed for shipping!
You can check out Royal's fantastic work here!    Twitter   |   Fur Affinity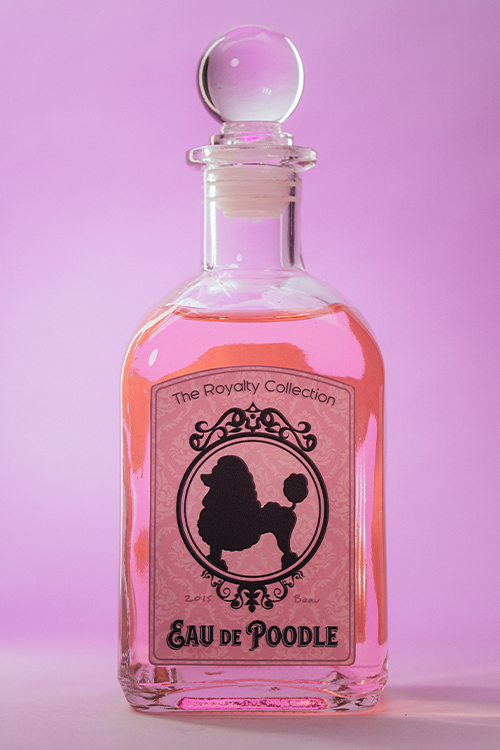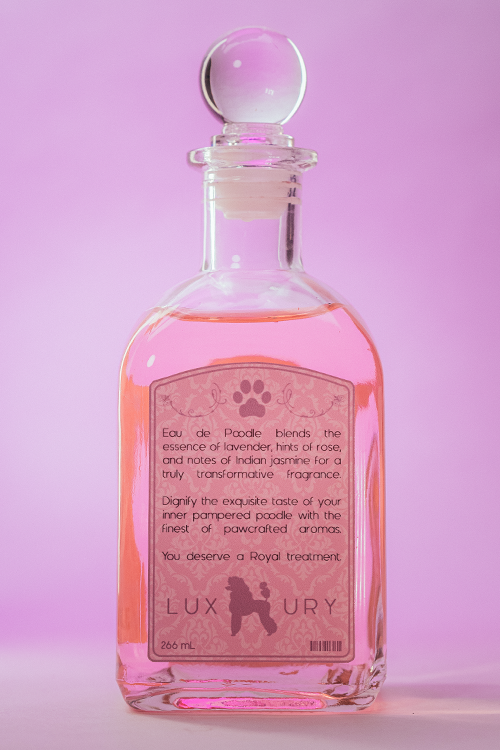 "Embrace your inner skunk~! L'essence de Moufette combines natural and carefully-crafted scents in to a powerful, magical aroma — a truly life-altering experience! A dashing black-and-white coat of fur, thick fluffy tail, a strong scent — what's not love?"
L'essence of Moufette is the first experiment of mine using resin in the bottle instead of water. Normally the bubbles wouldn't be great, but they fit well here in my opinion!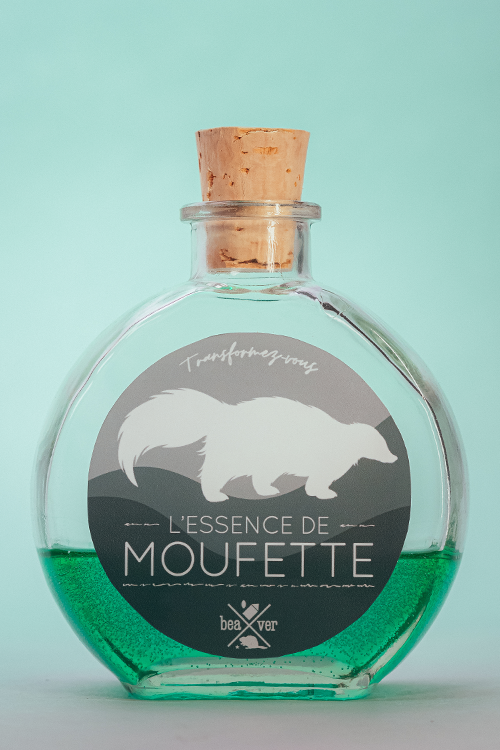 Captain Stamp's Rudder Rum
"Crafted from the finest pineapples and sugar cane — Captain Stamp's Rudder Rum is sure to have you squeakin' like a pirate otter in no time! Ready your rudder for this life-changing and species-shiftin' taste!"
The bottle that started it all! :3 An otter transformation-themed bottle for Stamp to hold his favorite type of rum! If you're a fan of rum and/or otter transformations, consider picking up a bottle yourself! Available in two sizes; contains no alcohol — but use it to hold your own favorite rum! 
You can check out Stamp's streams here!  Twitch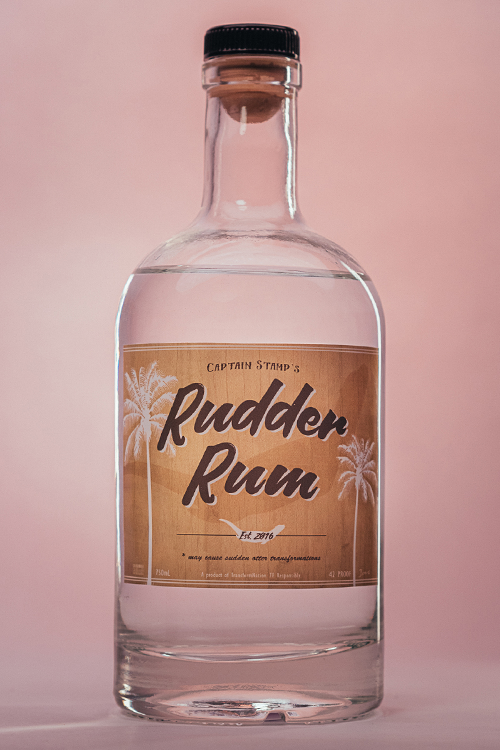 "*Sqrrk!* Looking to turn a boring trip to the pool into a never-ending party? Look no further than Instant Inflatable! — the popular potion that's sure to have you squeakin' and creakin'  all summer long!"
The first in a line of inanimate TF-themed drink/potion bottles! Wanted to somethin' inanimate related, and this was the first thing to come to mind at the time! :3c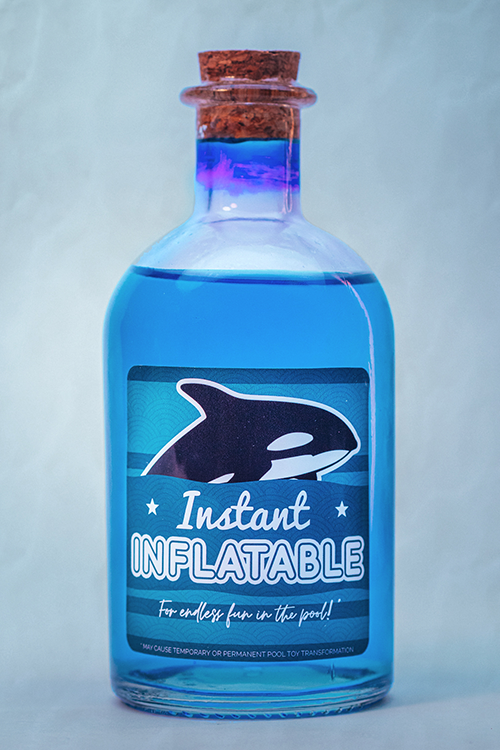 -- Want a custom bottle design as a commission or trade? --
Feel free to reach out for a bottle/glass design quote, or for a trade request! Final price subject to bottle and label design! Shipping may vary!